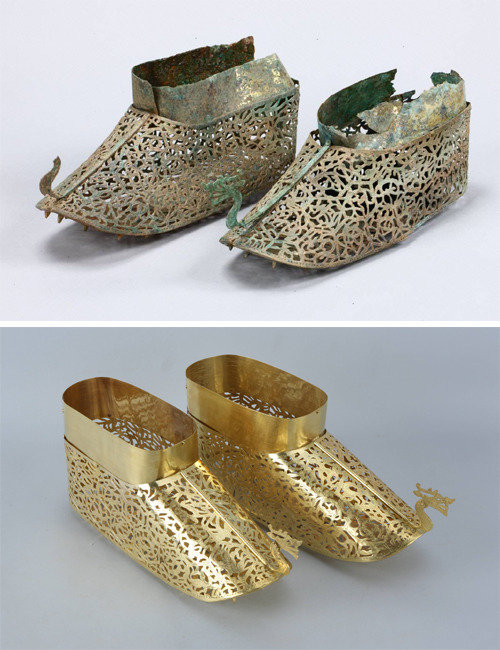 The Naju National Research Institute of Cultural Heritage disclosed Monday the copied and restored version of gilt-bronze shoes excavated from Jeongchon Tomb in Naju, South Jeolla Province in late 2014. The shoes that had been excavated at the chamber tomb in Jeongchon Tomb No. 1 had garnered hige interest as their splendid appearance were preserved. Jeongchon Tomb No. 1 is estimated to belong to the Mahan age at the end of the fifth century.
The institute had worked on preservation of the gilt-broze shoes for more than a year, and identified the production techniques through 3D scanning and x-ray analysis. The analysis results showed that the shoes were covered with gold with 99 percent purity at a 0.5 milmimeter thick copper plate. The lotus, goblin and bird patterns graved on the bottom and side used the so-called transillumination technique.
Based on the production technique research results, the institute has produced the restored product by mixing gold dust with mercury and then covering them on the metal surface. The restored shoes can be appreciated at the exhibition booth in the institute.
Sang-Un Kim sukim@donga.com