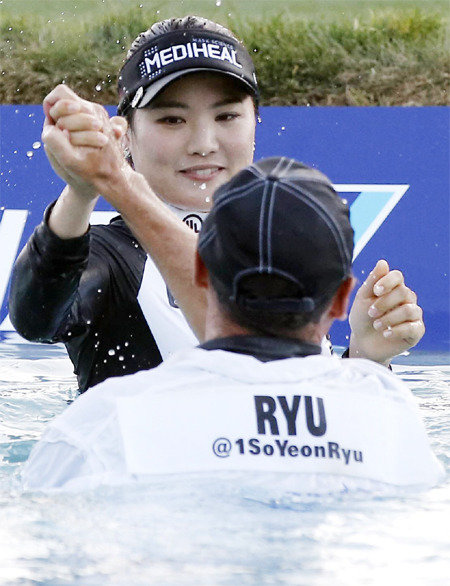 When Korean golfer Ryu So-yeon shouted with joy for her victory while winning the ANA Inspiration on Sunday, Lexi Thompson of the U.S. who lost the game sadly lowered her head and left the 18th hole. Ryu's eyes were reddened as she waited for the moment for almost 1,000 days. Tears were rolling down Thompson's face as her defeat was unexpected.
The 2017 ANA Inspiration, which is the LPGA's first major, was held on Saturday local time at the Mission Hills Country Club (72 holes) in Rancho Mirage, California. On that day, both winner and loser could not stop crying as they were chocked up with emotion. Both Ryu and Thompson started the game as No. 3 from three-strokes back. Ryu made four birdies without a bogey and tied to Thompson. Ryu carded a final round four-under par and won the game with a birdie at the first hole with a record of 14-under par.
Ryu's victory would not come with the misfortune of Thompson. Thompson was solely leading the game on that day with three-strokes but heard the word from LPGA Rules officials when she finished playing at the 12th hole. Thompson was issued a four-stroke penalty as she failed to properly replace her ball prior to outing out on the green, about 30 centimeters away from the 17th hole. The ball was placed 2 centimeters closer than the actual place. Unlike most golfers who mark their balls behind the ball, Thompson marked next to the ball. It was an inadvertent mistake. A TV viewer who watched the scene informed to the LPGA Rules officials through an e-mail. Thompson complained but it was already done.
The four-stroke penalty issued to Thompson stirred up a big controversy. Tiger Woods tweeted, "Viewers at home should not be officials wearing stripes." "I heard the news right before pulling a tee shot at the 16th hole. Having a chance of winning was unexpected and I was disturbed," Ryu said. "But I tried to concentrate on my game."
Ryu's steady efforts are well known to pass the cut off consecutively in 60 games. In LPGA tour, she was ranked as No. 1 in prize money and average hits and called as "Uncrowned Queen." However, the winner takes all in the world of professional sports. Ryu failed to renew her contract with a major sponsor at the end of last year. "I am happy to win a major championship," the 26-year-old Korean golfer said. "I have tried not to be obsessed with results and waited for a long time." Ryu has jumped from World No.3 to No. 2.
Ryu leaped into Poppie's Pond next to the 18th hole after winning the ANA Inspiration along with her mother, sister, caddie, and agent. Jumping into Poppie's Pond is a long-time tradition of the game.
Jong-Seok Kim kjs0123@donga.com