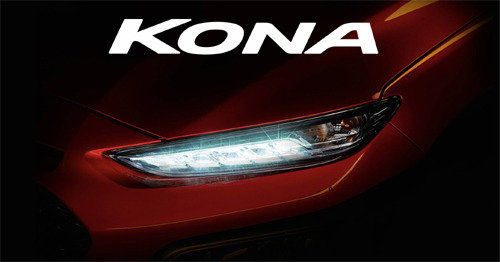 Hyundai Motor has chosen "Kona" for the name of its subcompact sport utility vehicle that will be introduced in the upcoming summer. The Kona is Hyundai's first subcompact SUV to hit the market.
Hyundai Motor has jumped into the subcompact SUV market due to growing popularity of small SUVs worldwide. The combined sale of subcompact SUVs that stood at around 12,000 vehicles in 2013 in the local market has soared to 107,000 last year. The Tivoli, which SsangYong Motor introduced in 2013, is leading the domestic subcompact SUV market. "We will reshuffle the subcompact market with the Kona that is armed with innovative design and superior utility," Hyundai Motor said while expressing confidence in the new vehicle.
Kona is the name of a resort island in the northwestern part of Hawaii's Big Island. Hyundai is using the names of world-famous resort areas for its SUVs, including Santa Fe, Tucson, and Veracruz.
Woo-Shin Han hanwshin@donga.com