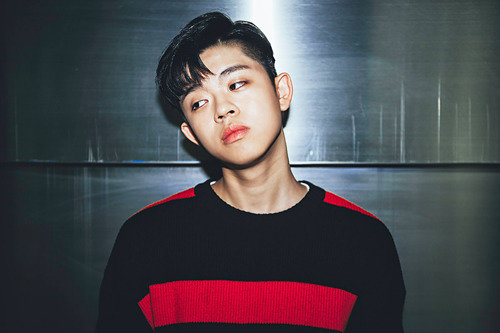 Kim Dong-hyeon who came to Seoul for an interview after school gave off his fresh charm as a college freshman. The picture of his girlfriend was seen on his mobile phone's background screen while he was asking, "Can we have some sandwiches?" for his friends who came to the place with him. Talking about music, however, he was as serious as anyone. Marking his 10th anniversary, the Dong-A Ilbo met him at Ilmin Museum of Art in Seoul on March 29.
For him who first appeared on TV as a cute little baby boy at elementary school of Kim Gu-ra, a comedian and TV and radio host, his father has always held a special place. He didn't deny that. "I would have not been in the place where I am now if I wasn't' the son of my father from the very beginning that I appeared on TV to the moment that I have successfully settled down with a contract with the current agent," the 19-year-old said.
Among many TV shows that he has appeared with his farther so far, he has particularly selected "Abba Bonsaek (whose literal translation would be "Father's True Color")" that he started last year as the most unforgettable show. "Honestly, I haven't had many opportunities to share memories with my father," he said. Thanks to the show, however, I have spent much time with dad in traveling, cleaning the house, learning how to drive and more, all of which have become such good memories with dad. I feel so sad that the show ends this week."
Just because he was the son Kim Gu-ra, he has had to endure the harsh reality of inconvenience and negative views from people. Last year when he was accepted by Department of Theater and Film at Inha University, controversy over special favor was caused. "I had been really dispirited before university entrance ceremony. Then, I met friends on the day who cheered me up, saying that I would be good at both music and acting. My school actually set a placard on main gate that read "Welcome MC Gree (his stage name)." Now I really enjoy my campus life. It's really fun."
He has recently proved his potential as a solo musician through the show called "High School Rapper" on Mnet which ended March 31. As he boasted his rapping skills that he has practiced, previously-suspicious glances from people have turned into favorable ones. "I was really worried before the show because if I do good performance, people would take it for granted. If I fail to do so, they would criticize me. Through the intense rap battles where only winner could survive, however, I had such as thrilling experience that made me feel my limits and growth at the same time."
He plans to release his new album soon. His debut song last year called "Nineteen" describes his growth and family, which has been well received by people and ranked many domestic music charts. "I want to write my lyrics and make my songs that only MC Gree can come up with. I don't want to purposely mention my father nor take him out from my story," the young musician said. "I just want to express myself and my life as they are. Wait for me and my further performance not as the son of Kim Gu-ra but as MC Gree."
Won-Mo Yu onemore@donga.com