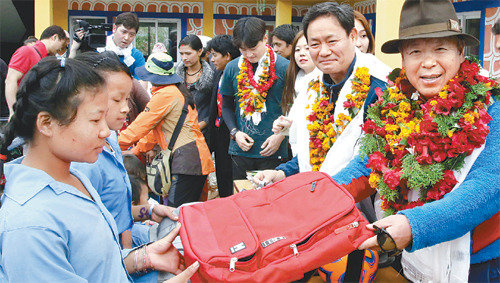 The 57-year-old mountaineer Eom Hong-gil recently completed building the twelfth school in Nepal. He is one fourth away from his target of establishing a total of 16 schools.
On March 26, the Eom Hong-gil Human Foundation cut the ribbon for its "12th Human School" at Purumbu, Nepal. Approximately 26 months passed since the very first groundbreaking in January 2015. On a telephone interview via the phone on Sunday, Eom told that "it's been seven years ever since we built the first school in 2010, and I am overwhelmed to see the twelfth one completed. While those were the schools constructed for Nepal children, it is I who feel even more happy when I see them smile."
The school was named as "Lotte Homeshopping & Eom Hong-gil Purumbu Human School," as the online shopping service provider contributed 250 million won for the establishment. The ceremony was held in participation with 15 Lotte employees including Im Sam-jin, Chairman of the CSR Mutual Growth Committee. Lotte raised fund by airing two programs for contributions.
The Purumbu Human School is built to accommodate 500 students, with 11 classes and various educational equipment including chairs and desks. Among those, toilets were considered most importantly when building the school. "Since Nepal rarely had toilets separated into genders, many girls were reluctant to attend schools, so we have built a modernized toilet for both boys and girls," explained Eom. Thanks to the recent construction, villages nearby will be provided with electricity from hydroelectric power plant, and will be using larger access roads.
Eun-Seo Park clue@donga.com