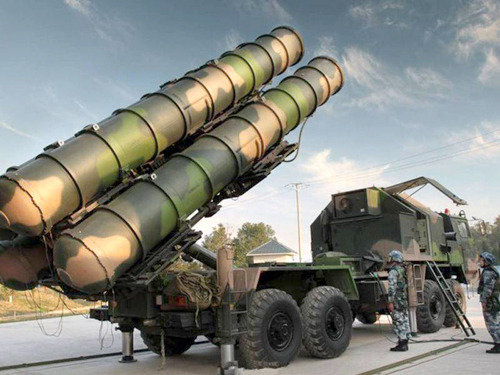 China has been taking economical retaliation against South Korea to protest the deployment of the Terminal High Altitude Area Defense system that is purely designed for defense, is exporting a missile defense system dubbed the 'Chinese equivalent of Patriot Missile.' Critics say that China is thus displaying 'double standards' by allowing itself to do as it pleases, but blocking others from doing what it does.
Citing Kanwa Defense Review, a monthly military journal in Canada, Taiwan's Central News Agency reported on Saturday China Precision Machinery Import and Export Corp recently signed a contract to sell the FD-2000 air defense system with a rich Middle East country. The FD-2000 is an export version of the HQ-9, the third-generation intermediate and long range surface-to-air missile that China developed by improving Russia's S-300, and is dubbed the 'Chinese equivalent of Patriot Missile.' Unlike the HQ-9 system that is integrated with the vehicle as a single unit, the FD-2000 air defense system comes with two separate vehicles, namely the one for the radar and the other for missile control. A battalion of HQ-9 missiles operates eight launch vehicles, with each vehicle armed with four missiles.
CPMIEC signed a contract with Turkey to sell HQ-9 missiles worth 3.4 billion US dollars in 2015. However, the HQ-9 system's export to the Middle East failed to happen not only because it is incompatible with NATO's air defense system deployed in Turkey but also the U.S. and NATO protested the export by citing the possibility for leaks of intelligence on NATO's air defense system if the two air defense systems are operated together. The HQ-9 system is poised to be exported to a foreign country for the third time after it was shipped to Uzbekistan and Turkmenistan. In the wake of the HQ-9's export, China has a bigger chance to export its radar systems, airborne reconnaissance planes, and fighter jets to the Middle East as well as well.
Ja-Ryong Koo bonhong@donga.com