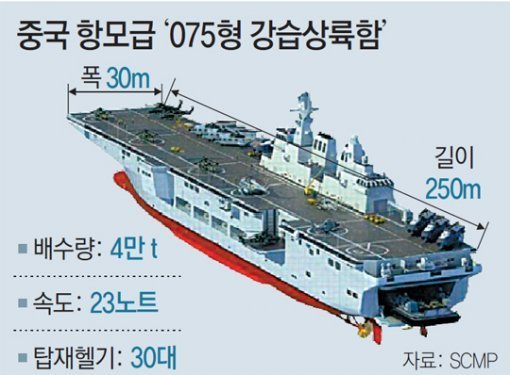 China has started to build "Type 075 Amphibious Assault Vessels" capable of carrying 30 helicopters, the South China Morning Post reported on Wednesday.
On Tuesday, Hudong Zhunghua Shipbuilding, a Shanghai-based shipbuilder, announced that China's Navy Commander Vice Admiral Shen Jinlong visited the company. The amphibious assault vessels, which also can serve as an aircraft carrier, will be launched in 2019 before being put into full service in 2020. With a 40,000 ton-displacement capacity, the vessels are capable of deploying up to 30 armed helicopters and scrambling six helicopters at the same time. Once the type 075 assault vessels are put into service, it will allow China's navy to launch various types of helicopters to attack naval vessels, submarines, and ground forces in the South and East China Seas.
The construction of the new vessel will likely pose a great threat to Taiwan whose relations with China have soured since Tsai Ing-wen, Taiwan's new independence-leaning president, took office. The U.S. Department of Defense submitted a report to the Congress last year, pointing to the possibility of "China's amphibious vessels, enhanced navy assets and land forces posing a threat to Taiwan."
China's navy is also planning to launch its second locally-built aircraft "Shandong" on April 23, following China's first home-built flattop "Liaoning." Sources say that Chinese President Xi Jinping is also attending the launching ceremony. China's third aircraft carrier, which is being built at Jiangnan Changxing shipyard in Shanghai, will also be launched in 2021. In addition, China is planning to augment the size of its navy forces dramatically from 20,000 to 100,000.
Ja-Ryong Koo bonhong@donga.com