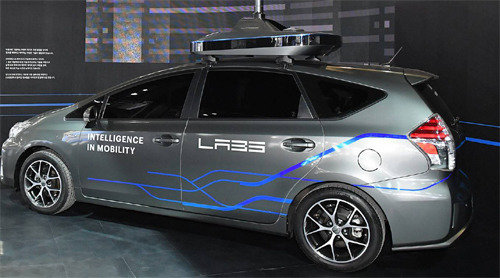 Korea's most-visited web portal operator Naver unveiled its self-driving capabilities at the Seoul Motor Show on Thursday.
Showcasing a self-driving car currently under development at the press day event at the Seoul Motor Show held at KINTEX, Goyang, Gyeonggi Province, Naver said that it has Level 3 autonomous driving tech based on the standards of the Society of the U.S. Automotive Engineers. Level 3 cars have autonomous capabilities but drivers' intervention is only required in emergency. Naver said it aims at developing Level 4 cars, which do not need a person.
"We aim at further upgrading Ambient Intelligence, which Naver intends to seek, by accumulating data on space and movement," said Song Chang-hyun, CEO and CTO of Naver Labs.
The upper portion of the self-driving car unveiled by Naver Labs, has a camera that can capture things in all direction and a sensor. They will be able to identify objects 360 degrees. It means it can find out where flowers bloom most and which road is less crowded.
If space information is accumulated, information on roads and space can be offered real-time and new service models can be released, Naver said. The tech company also exhibited "M1," a robot that can create three-dimensional detailed maps indoors by combining its autonomous technology.
Hyun-Seok Lim lhs@donga.com