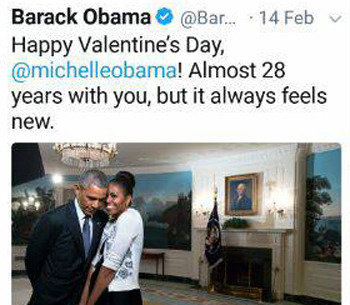 "I have to excuse myself. If I don't get back to Michelle early, I'm going to be in trouble."
Two months out of office, former U.S. President Barack Obama left the dinner event with this joke. He is now getting used to be an ex-president. In his tweeter profile, he introduced himself as "Dad, husband, (ex-)President, citizen." The Washington Post and American media reported on Sunday (local time) that A post-presidency of Barack Obama is nonetheless shaping up to be busier, but not that special comparing the days when he was the president of the U.S.
On Valentine's day, Obama left a too much romantic message in his tweeter with a photo. He tweeted, "Happy Valentine's Day, @michelleobama! Almost 28 years with you, but it always feels new." Mrs. Obama tweeted back, "Happy Valentine's Day to the love of my life and favorite island mate," and she also attached a photo of their feet full of sand.
Their photos with a great big smile while enjoying various water sports in vacation spots made headlines. "To escape the spotlight, the Obamas have taken multiple vacations since leaving the White House," the Washington Post reported. "(Comparing to past president couples,) They appeared relatively rested and refreshed."
The newspaper added that the Obamas plan an extended stay at Tetiaroa, a South Pacific island of French Polynesia, to start writing about their eight years of the White House. Tetiaroa is best known as Marlon Brando's private island. A famous movie star Brando purchased the island in 1960 to shoot the movie and now his children own the island.
Hyong-gwon Pu bookum90@donga.com