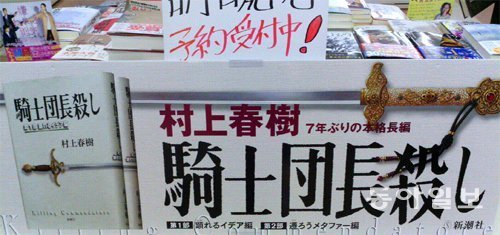 The Korean publisher to translate and release Japanese novelist Haruki Murakami's new book "Killing Commendatore" will be decided before Wednesday at the earliest. Publishers in Korea have already submitted their proposals for the Korean edition before last Friday's deadline of the deal and publishing insiders said that they will receive the result before Wednesday when the author goes on an overseas trip. More than five large and mid-sized publishing companies applied for the publication of the Korean version, and it is said that the Japanese agency is comparing three publishers as promising candidates.
The competition to win the contract has heated up already before Murakami's book was released in Japan on Feb. 24, and rumors has it that his book earned 3 billion won in advance against royalties. However, some are cautious with the talk by saying that the sales of "Killing Commendatore" lost stream earlier than expected after being sold about 480,000 copies in three days.
Publishing insiders this reporter spoke with on the phone on Sunday requested anonymity for concerns about negative impacts on the contract. "The situation now is quite different from 2009 when '1Q84' was released. At that time, '1Q84' was running short and readers had to make a reservation for book stores to buy the book," the chief editor of an established publishing company said. "Considering that Murakami was well known to Korean readers, his book will receive a large amount of money in advance. However, the Korean publisher must take a huge risk."
Others view that situations in Japanese book market will create a favorable condition to the marketing of the Korean edition. Japanese right wing criticized comments on the Nanjing Massacre in the book and this negatively affected the sales. However, some argue that this would rather create positive attention and raise expectations on the book of Korean readers. In his novel, Murakami acknowledges the Nanjing Massacre, an episode of mass murder by Japanese troops against the residents of Nanjing that occurred over a period of six weeks starting in December 1937, and said it is an undeniable fact that large number of civilians were killed due to war and the death toll could be 100,000 or 400,000.
A publishing company CEO said, "Employees and others I know have already read 'Killing Commendatore' in Japanese and they all gave positive reviews on the book. I think that this book will be the last masterpiece of Murakami." The CEO of another publisher said, "Many say that this novel raises expectations about winning the Nobel Prize. Murakami still shows a fascinating outlook and readers can easily follow the storyline, which is more readable than '1Q84.'"
Taek Kyoon Sohn sohn@donga.com