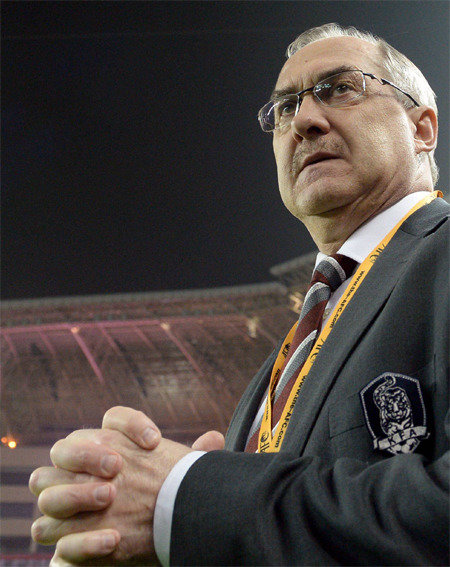 "Rather than agonizing over the issue of my future course of action (resignation), I will think hard about how Korea will advance to the World Cup finals. I am already busy enough just thinking about this."
This what national soccer team coach Uli Stielike had to say about controversy over whether Korea should dismiss him as coach at the National Football Center in Paju, Gyeonggi Province on Friday, after Team Korea suffered a humiliating loss in the sixth match against China of the Asian regional qualifiers for the 2018 World Cup in Russia. Korea is still ranked second in Group A by keeping 10 score points overall after the loss to China. However, since the gaps in its score points versus those of Uzbekistan (ranked third, score point 9), and Syria (ranked fourth, score point 8) are only one and two points, respectively, Korea is in a state of emergency in its bid to secure a ticket (allowed for the winner and the runner-up for each group) to directly advance to the World Cup finals. Match 7, the final of the Asian qualifiers that will take place at the Seoul World Cup Stadium on Tuesday next week, will likely be the game that will determine Stielike's fate.
"I will find a solution through change" Stielike said. Team Korea's monotonous tactics that have continued in the Asian regional qualifies have failed to threaten the opponent teams. Ki Sung-yueng (Swansea City) made critical comments, saying, "The players and the coaching staff should both change. Otherwise Korea will not able to advance to the World Cup finals."
Coach Stielike, who insists on the 4-2-3-1 formation, constantly maintained the tactic of simple side attacks in the match against China. Side attacks can generate impact only when an opponent team that is weak in skills and capabilities displays pressing defense in the center of the field. Chances are high that Syria, which is ranked 95th in the FIFA rankings, will also stage "defense before counterattack" tactic against Korea (ranked 40th).
However, the Stielike-led Korean national team's side attacks are hardly powerful and threatening. Side positions are not their main posts for Nam Tae-hee (Lekhwiya SC) and Ji Dong-won (FC Augsburg), although they played as strikers on the right and left sides, respectively, in Thursday's match. "Both of them are more familiar with penetration into the center, rather than penetration into the sides before kicking crosses, and hence they lacked expertise in side attacks," KBSN soccer commentator Kim Dae-gil said. Side defenders who joined attacks also performed just as poorly as the strikers.
According to the soccer data analysis firm Team12, the accuracy of Team Korea's crosses in the match against China only amounted to 8.7 percent (Only two of 22 were accurate). Tall striker Kim Shin-wook (Jeonbuk Hyundai) was fielded in the second half, but he only kicked inaccurate crosses and long passes, making the team's offence less efficient. "Rather than changing the team's formation, I will focus on increasing the players' understanding of our tactics," Stielike said.
Another problem is hopelessly frequent abuse of back passes. Back passes accounted for 108 of Korea's 441 passes in the match against China. Notably, back passes numbered the most at 52 among its passes in attack zones (181 passes). "Since there is no set play between offenders and defenders even when they advance forward to the opponent team's sides, they fail to kick menacing passes and only send the ball to our team's field, repeating a vicious cycle," KBS soccer commentator Han Joon-hee said. Korea had only six return passes that can dismantle China's defense in the match.
This demonstrates that soccer matches based on a higher ball occupancy rate that Stielike has been emphasizing is not very meaningful. This is because players only passed the ball within Korea's field, rather than dashing towards the opponent team's goal through pass plays. "I will find a way to strengthen the capability to score goals while maintaining the ball occupancy rate," Stielike said, only giving an answer based on principle.
Yun-Cheol Jeong trigger@donga.com