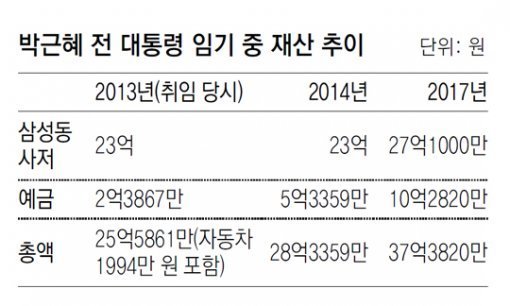 Former President Park Geun-hye was on the list of high-level officials who were required to disclose their property released by the Public Service Ethics Committee of the Government on Thursday because the reporting date (Dec. 31, 2016) was before the Constitutional Court's ruling on the impeachment.
Former President Park reported 3,738,200,000 won (3,333,000 US dollars), up 218,960,000 won (195,240 dollars) from 2015. It includes her house in the Gangnam district of Seoul worth 2.71 billion won (2.42 million dollars) in appraisal value and deposits of 1,028,200,000 won (916,810 dollars).
As of Feb. 25, 2013 when she was inaugurated, she reported 2,558,610,000 won (2,281,420 dollars). Her property increased 1.18 billion won (1,052,160 dollars) during her four-year presidency. The appraised value of her house increased 410 million won (365,580 dollars). The remainder of the increase came from the growth in deposits. She appears to have saved most of her annual salary as a president of around 210 million won (187,250 dollars). Some estimate that the market value of her house would be much higher than the appraised value. A source from the committee said, "As the house has not been traded for a long time, there is no way of valuing it at a market price."
Former President Park's asset portfolio is pretty simple. Excluding the 2008 Hyundai Veracruz model (19.94 million won or 17,780 dollars) which she disposed when she was inaugurated in 2013, she has reported her house and deposits throughout four years as a president. It is in contrast to those of most high-level officials consisting of real estate including land, stocks, jewelry, and a condo or fitness club membership.
Tae-Ho Hwang taeho@donga.com