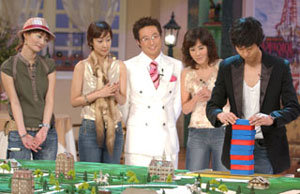 The Seoul Broadcasting System's (SBS) popular TV drama "Lovers in Paris," which airs at 9:45 p.m. on Saturdays and Sundays, hit a record high on August 8, leaving two more episodes before concluding on August 15.
On August 8, the TV drama broke an existing viewing record with 51.5 percent, according to TNS media Korea, a research company. "Lovers in Paris," which had a 50 percent viewing rate on July 25, lost a big portion of their viewers on July 31 and August 1, respectively, showing subsequent viewing rates of 37.6 percent and 39.2 percent. However, it rebounded back to its previous level last Sunday.
People analyzed that the semifinal match of the Asian Cup between Iran and South Korea, which was shown on July 31, was the main reason why people turned their backs on "Lovers in Paris" last week. Also, some people say that the negative preview over the revenge plot between Yun Soo-hyeok (played by Lee Dong-gun) and Han Gi-joo (played by Park Shin-yang) turned viewers away from watching the drama that weekend.
However, on August 8, the scenes that Gang Tae-yeong (played by Kim Jeong-eun) broke the relationship with Han Gi-joo grabbed viewers' attention. While Gi-joo was away buying ice cream upon Tae-yeong's favor, she disappeared, leaving a tape-recording containing their engagement break up. Afterwards, Gi-joo tottered back, bringing his bicycle, as Tae-yeong didn't show up. The viewers deeply empathized with the scenes when Gi-joo cried out in miserable sorrow in front of his sister, saying, "I never expected it would be this hard," and when Tae-yeong had tears rolling down as she left Gi-joo behind.
A big fan of the drama, Lee Jae-cheon, left a message on the SBS online bulletin board after watching it during the lunch break at work the day following the airing, saying, "It was so sad when Gi-joo cried, and I also happened to cry while watching Tae-yeong cry, which gave me a hard time as I was criticized by my boss."
The enormous popularity of "Lovers in Paris" continued with other entertaining programs on August 8. The SBS's variety show program, "I Love Sunday," featuring all the stars of the drama, hit the highest viewing rate with 18.1 percent on August 8 since its first airing on March 28. The program usually has around an eight percent viewing rate, but its rate increased by 10 percent on that day.
"At the last episode, Gi-joo and Tae-yeong parted, but we'll finish the series with a happy ending," said a SBS employee.
Sun-Woo Kim sublime@donga.com