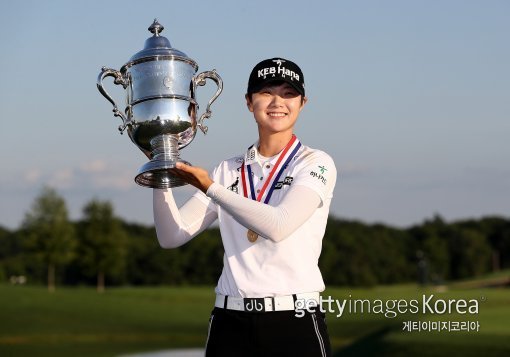 It was during a boring 2nd tour. She went to the tournaments taking place in the remote areas with her mother, riding an old used Sonata and loading it with her belongings. Driver yips, a state of anxiety that annoyed her since her high school years, didn't go away that easily. She even hit 10 OBs in one round. The future didn't seem rosy at all.
When she just turned 20, Park Sung-hyun had a small tattoo that writes "Lucete" on her left wrist. It means "shine brightly" in Latin. It was also connected to "hyun (炫)," the last syllable of her name, which means "bright." As she wore arm warmers under the short-sleeved T-shirt even on a hot day, no one could see her tattoo and she waited for the day to shine brightly.
The 24-year-old Korean has finally achieved her dream this season. Park walked a new path not even the great golf players such Pak Se-ri or Park In-bee ever walked at the last Ladies Professional Golf Association (LPGA) tour championship of the season, which ended on Sunday local time at the Tiburon Golf Club, Naples, Florida (Par 72).
She wrote the quote "Unlike No One Else," which is her nickname, and urged herself to be different from others. She finally obtained powerful long drive, short game and putting skills, making her debut season of LPGA Tour into the special show for her.
Park was also afraid of the strange new environment, but she threw herself into LPGA Tour, wanting to go out to the bigger world. With her mother's teaching of "think of the others first, even when you're troubled," Park recently donated 100 million won for three years in a row. She visited her alma mater Hyeonil High School before she left to the United States to donate 10 million won as a scholarship. "I couldn't have come this far without the help of others," she said.
She has been awarded with "Rookie of the Year" and "Player of the Year" at LPGA Tour, which she could not receive in Korea. Her international ranking has rocketed to No. 1 at the end of this season from No. 396 in 2014. It was the first time a rookie was ranked No. 1. Gary Gilchrist, a famous swinging coach, praised Park for being "a player who competes to win every championship, just like Tiger Woods."
She was asked about the score for 2017, as it seemed that she reached the very top. "It's 80 out of 100. I could become better because I've always tried hard to fill in the things I lack," she said. "I still have a long way to go. But for now, I want to take a rest and travel around."
Jong-Seok Kim kjs0123@donga.com