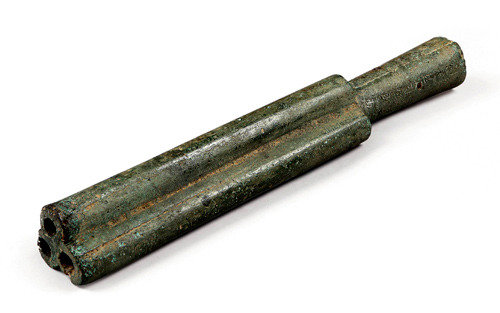 The "Three-Eyed Gun," a relic from the Japanese Invasion into the Joseon Dynasty in 1592, features a unique shape. With its three holes, the gun allows firing three bullets at the same time. Back then, it was a product of cutting-edge technologies transferred from the military of the Ming Dynasty. The gun is a testimony to the fact that the Japanese invasion had a profound influence over the art of weaponry as well as the politics and economy of Joseon. The Three-Eyed Gun, which has been kept at the Gyeongju National Museum, will be displayed at the National Museum of Korea.
The National Museum of Korea has recently refurbished its permanent exhibition facilities, including the Joseon Room and Korean Empire Room. "The focus of the refurbishment work was to offer detailed historical contexts behind each of the museum pieces while presenting the stories of major events of the Joseon Dynasty and Korean Empire in a chronological order," said an official of the museum. In other words, the remodeling was aimed at introducing important historical episodes that marked each epoch and explaining about how the Koreans responded to those events.
Some of the detailed examples include the process of Joseon's foundation as an attempt to dispel the evils of the preceding Korea Dynasty, the implantation of Daedongbeop, a measure taken between the 16th and 17th centuries to gather rice as a unified form of taxes instead of the more luxurious local specialties to lessen the burden of ordinary folks whose lives were plagued by the Japanese invasion, the development of commodities and monetary economy in the late years of the Joseon Dynasty, and the modernization efforts in the Korean Empire in late 19th century. On a related note, a massive showcase was set up to present the Donggukdaejido, a 2.7-meter-long map, as well as Daedongyeojido, a map drawn up by Joseon's top cartographer Kim Jeong-ho, which was compiled into several volumes of book. "Those maps have close relevance with the expansion of distribution channels following the development of commodities in late Joseon Dynasty," said Lee Su-gyeong, a researcher at the National Museum of Korea.
The museum will also present an interactive video to demonstrate the traffic of people and commodities along the Namhan River that bridged the capital city of Hanyang and the Chungcheong provinces. The video depicts a colorful range of historical aspects such as tourism around the Namhan River, transportation of taxes to the capital city, and local governance.
Sang-Un Kim sukim@donga.com