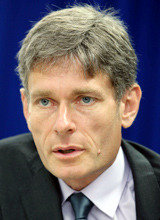 The U.S. has brought out the human rights issue in North Korea by putting sanctions and designating a "primary money laundering concern." U.S. Assistant Secretary of State for Democracy, Human Rights and Labor Tom Malinowski (photo) visited Korea unofficially on Friday to meet officials from the presidential office Cheong Wa Dae, the Ministry of Foreign Affairs, the Ministry of Unification, and the UNHCR Seoul Office.
Malinowski had an interview with the Dong-A Ilbo and stated, "The purpose of my visit to Korea is to discuss how to use the sanctions to improve the human rights state in North Korea and how to provide North Korean civilians with external information." Malinowski once worked for a non-governmental organization, "Human Rights Watch," before serving a senior director on the National Security Council at the White House, where he was in charge of proofreading Bill Clinton's foreign policy speeches. Prior to his Seoul visit, he visited Beijing to participate in the U.S.-China Strategic and Economic Dialogue.
Malinowski noted, "Our focus is to identify those who violate human rights in North Korea. We aim to change actions of hit men, defector chasers, and concentration camp managers by giving them this message: 'We know who you are and what your name is. Your future will be bleak'." When asked if Kim Yo Jong can be a target of the U.S. sanctions, he answered, "I will not reveal the names of the targets but no one can be an exception. We will make a list of sanction targets based on facts regardless of their political positions." Kim Jong Un's younger sister, Kim Yo Jong, is the de facto leader of the Propaganda and Agitation Department, which the U.S. Treasury Department found responsible for censorship and applied the sanctions to.
"The U.S. government is using various methods to directly supply external information to North Korean civilians," Malinowski noted. "We are working with NGOs and the Korean government to send movies, weather forecast, and Korean news via radio channels and high-tech devices such as smart-phones." One North Korean defector testified that he first thought about the meaning of life after watching the movie Titanic in which the male main character sacrifices himself for his love. The movie gave him a chance to look back his life of struggles for survival.
About the Korean government's emphasis on forbidding North Korean laborers from working overseas, Malinowski stated, "We do need to stop North Korea from earning foreign money. However, we do not want a complete forbiddance as while working overseas, North Koreans can experience life outside North Korea." He added that the focus will be on protecting their human rights by making sure that they will not be detained in factories or isolated from the outside world.
"They say that the North Korean government does not care about human rights issues, but they are wrong. In fact, North Korea is very sensitive about it," Malinowski argued. "Whenever the UN brings up the issue, North Korean diplomats lose their temper. The nation insists that they do not have concentration camps, but still they seem embarrassed whenever the issue is stated."
조숭호기자 shcho@donga.com