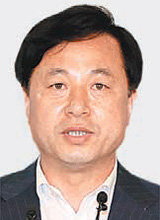 "I am a member of the pro-Roh Moo-hyun faction but not pro-Moon Jae-in." Kim Doo-kwan, former governor of South Gyeongsang Province, told The Dong-A Ilbo on Tuesday. He told this when explaining the reason he chose to deliver congratulatory remarks at the inaugural ceremony of a committee to launch a "pro-Chun Jung-bae new party," which is scheduled on Wednesday. Kim is a member of the main opposition New Politics Alliance for Democracy, but Chun already defected from the party.
Kim clarified that he will not join the "pro-Chun Jung-bae new party." However, he emphasized his special relationship with Chun. For this reason, a flurry of rumors have it that Kim, nicknamed "Little Roh Moo-hyun," and Chun, an "original member of the pro-Roh faction," will join forces.
"Since neither NPAD Chairman Moon Jae-in nor floor leader Lee Jong-geol are delivering congratulatory remarks, I thought that I will need to give talks instead. In order for the opposition camp to retake power, (NPAD and Rep. Chun) must join hands," Kim said. "I think the two forces will consider phased unification of candidates in next year's general elections. If there are things that require my support, I will take part."
Kim and Chun first met at the election camp for then presidential candidate Roh Moo-hyun in 2002. At the time, Chun led a reform campaign in the then ruling camp, and became the first lawmaker to declare his support of Roh Moo-hyun as presidential candidate. Chun served as Justice Minister during the Roh administration, but defected from the ruling Uri Party in 2007 after falling into dispute with the pro-Roh group, including then presidential chief of staff Moon Jae-in. Later, Chun served as the executive chairman of the election preparation committee for the then presidential candidate Kim Doo-kwan in 2012, launching his "anti-Moon" propaganda.
Kim is in close relationship with Reps. Moon Byeong-ho and Yoo Seong-yeop who tend not to support the pro-Roh faction in the NPAD. The former governor issued a statement to oppose approval of the "Kim Sang-gon reform plan" jointly with the two lawmakers in September. He is thus effectively taking "anti-Moon Jae-in" stance like Chun, who defected from the party.
At the inaugural ceremony for the Chun Jung-bae new party, Han Sang-jin, emeritus professor of Seoul National University who is close to Rep. Ahn Cheol-soo, will also give congratulatory speech. Watchers have said Rep. Chun may be sending Ahn an overture to invite the latter to join the new party.
constant25@donga.com