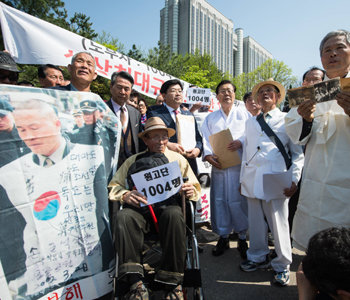 Some 1,000 Korean victims who were forced to work for Japanese companies under the Japanese colonial rule and their bereaved families have filed a large class action lawsuit of around 100 billion won (92.3 million US dollars).
The Asia Victims of the Pacific War Family of the Deceased Association of the Korea (sic) filed a lawsuit with the Seoul Central District Court on Tuesday against 72 Japanese companies including Mitsubishi, Mitsui, Aso and Nissan to seek unpaid wages, damages, and compensation. The suit involves 1,004 plaintiffs who are the victims of coerced labor and their bereaved families. It is the largest lawsuit against Japanese companies in Korea since the 2012 Supreme Court ruling which said Mitsubishi must pay compensation to the victims which were forced to labor for the company.
Some 100 members of the group held a press conference in front of the Seoul Central District Court in Seoul on Tuesday morning and said, "The issue over private claims against Japan regarding the Korea-Japan Treaty is the biggest challenge to the peaceful settlement of historical issues between the two countries at a time when both countries mark the 50th anniversary of a diplomatic tie." They added, "Seventy years have passed since the end of war. But trillions of won of personal savings, including unpaid wages, deposits, and welfare pensions are still deposited in Japan Post."
They also criticized Japan's lukewarm response, saying, "Japan claims that the compensation issue for the victims of coerced labor is completely addressed with the 1965 Korea-Japan Treaty or the Agreement between Japan and the Republic of Korea Concerning the Settlement of Problems in Regard to Property and Claims and Economic Cooperation."
The group demands compensation for damages based on the Seoul High Court's ruling in July 2013 which ruled that New Nippon Steel must pay 100 million won (92,380 dollars) per victim of forced labor, along with the Supreme Court's ruling in 2012. It is said to increase the compensation amount from 10 million (9,240 dollars) to 100 million (92,380 dollars) per person. In this case, the total litigation cost will go up to 100 billion won (9.24 million dollars), the largest amount in its kind.
Robert Swift, a lawyer of Kohn, Swift & Graf, a US law firm, and Jang Yeong-gi, a lawyer of Dongmyeong, a Korean law firm, will represent the plaintiffs. Kohn, Swift & Graf is a law firm which won in cases totaling 7.5 billion dollars in compensation against the German government and Austrian companies on behalf of Holocaust victims. If they win this case, Dongmyeong and Kohn, Swift & Graf could seek approval from the U.S. court based on the ruling, and seizing the assets of Japanese companies in the U.S. for compensation.
journari@donga.com