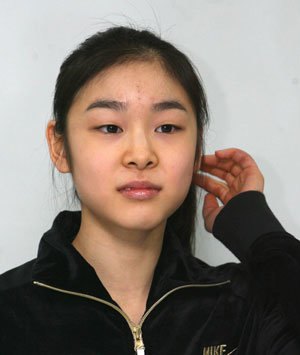 Figure skating sensation Kim Yu-na (17) flew back to Korea on Monday to receive medical treatment. She stopped training in Canada and even pulled out of the Four Continents Championships, which is being held in Goyang, Gyeonggi Province.
Although many feared that her injury may lead to a poor performance in the World Championships to be held in Sweden this March, Kim was all smiles at a press conference held on Wednesday at a sports medicine clinic in Seoul.
In response to an array of questions related to her ability to perform in the upcoming World Championships and against her rivals, she said, with a smile, "You know, I'm not quitting figure skating after this season. For now, the priority is to heal my body, not to worry about other players."
She added, "Because I've put up with the pain, I've ended up aggravating my injury. My future athletic career is more important than a near-term competition."
Cho Seong-yeon, the director of the clinic, said, "Monday's medical examination shows that the muscle around her hip joint is swollen and a ligament is stretched. We have started treating her with medication. As a rapid recovery is expected, she will likely be able to participate in the World Championships."
kimsk@donga.com