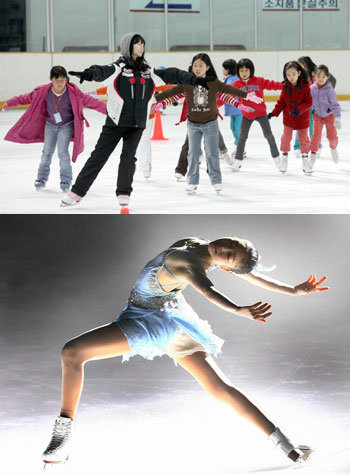 More children are entering figure skating programs, mainly due to the success of figure skating sensation Kim Yu-na.
An ice rink in the Mokdong district of Seoul has seen the number of applicants for figure skating increase from 250 to 400, and that of Lotte World has doubled from 40 to 80. Ice skating classes are also seeing higher demand. In a figure skating course held during winter vacation at Eoullim Nuri in the northern Seoul suburb of Goyang, more than 500 children applied and some of them were not accepted.
○ Parents see prospects in figure staking
"Compared to a year ago, the number of students has noticeably increased," a staff member at the Mokdong ice rink said. "Due to the success of Kim Yu-na, figure staking has become a popular sport."
Most of those taking the courses are elementary school students. Mother Kim Su-jeong, who enrolled her daughter in a program, said, "With Kim Yu-na being in the spotlight, I feel well-acquainted with figure skating. The perception that figure skaters can be also successful in their lives has changed parents' minds."
○ Female students account for 90 percent
Ninety percent of those enrolled are also girls. "Some parents ask me to make their daughters like Kim Yu-na," said one instructor.
The worry, however, is that this figure skating fever will not last long. When Korean short track skaters such as Ahn Hyun-soo and Kim Dong-sung swept medals in the Winter Olympics and the world championships, students lined up to learn speed skating.
At the time, short track speed skating attracted eight students for every two that figure skating drew. But figure skating classes are now more popular than those for short track.
"With Ahn Hyun-soo fever turning into the Kim Yu-na syndrome, public interest has also shifted to figure skating. I wonder what's next," said Ahn Gyeong-chan of Goyang Facility Management Corporation.
creating@donga.com