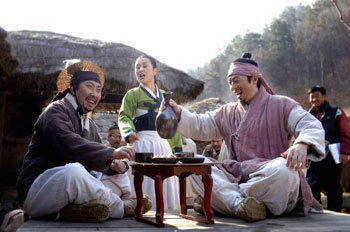 Historical dramas of MBC and SBS are pitting against 'King Sejong,' broadcasted by KBS 1TV, which has gained higher-than-expected popularity, with new strategies.
According to AGB Nielsen Media Research, a media ratings research firm, the average ratings for first two episodes of 'King Sejong' released on Jan. 5 and 6 stood at 22.6 percent and those for the third and fourth episodes released last weekend reached 21.7 percent.
Meanwhile, the episodes of MBC's 'Yisan/Jeongjo' and SBS' 'King and I' released on Jan. 7 and 8 suffered a ratings slip, falling 1.4 percentage points and 0.2 percentage points, respectively. Their rankings dropped by one and three levels, respectively, on the most viewed program list.
KBS airs 'King Sejong' during weekends, unlike MBC and SBS which broadcast the two representative historic dramas on weekdays.
Nevertheless, the two broadcasting stations have come up with urgent countermeasures not to be outdone by the upward trend of the new KBS drama.
The well-known comedians featured in MBC's popular entertainment program, 'Infinity Challenge' played cameo roles in two episodes for the same broadcast station's 'Yisan/Jeongjo' released on Monday and Tuesday, this week.
Stars of 'Infinity Challenge' including Yoo Jae-seok, Park Myeong-su and Ha Ha in Korea's traditional clothing Hanbok and topknots on their heads appeared intermittently in the episodes and played the roles of a tavern visitor, a palanquin bearer, and a low-level government official.
Their appearance was announced via the homepage of the drama and 'Infinity Challenge' aired last Saturday. The program rating for 'Yisan/Jeongjo' posted 28.3 percent on Monday, up 0.6 percentage points from last week.
However, the opinion gap among audiences widened on the online bulletin board. Some showed positive response, saying, "It was interesting to apply comic aspects to serious historical drama. (Lee Gyeong-hwa)" while others considered the trial discouraging, saying, "There are already funny characters in the drama. It was very disappointing to feature comedians. (Cho Gyeong-hee)"
Some audiences complained that they could not focus on the story since they were absorbed in finding the whereabouts of the comedians.
Suffering from a change of producers and a violation case, 'King and I' of SBS has lost many audiences. Recent episodes of the drama have highlighted feud among mistresses in the palace, digressing from its original intention. When the drama began, the producer announced, "In an era where short-lived love dominates, the drama will focus on the human nature abiding by self-sacrificing love and loyalty."
Tuesday's episode for 'King and I' featured the queen who scratched the face of King Seongjong who loved a gisaeng (a kind of barmaid who plays musical instruments and sing). Lots of audience has criticized the quality of the program. Among them, Park Hyang-lan complained, "I've watched 'King and I' from the first episode and I am very disappointed by how it has changed into a soapy drama dealing with adulterous relationship."
sohn@donga.com