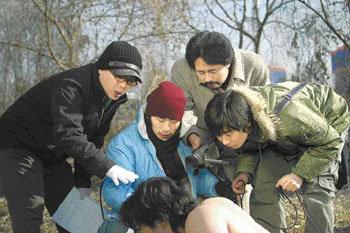 I was overcome with laughter when watching the independent film, "Saekhwadong," to be released on November 15. Created by director Gong Ja-gwan of "Click Films" - once famous for producing pornographic videos – it is based on his personal experiences, but is more of a coming-of-age story than actual pornography.
The movie starts with street interviews asking passers-by what they think of pornographic films. One woman replies, "Don't they get prostitutes for those things?" And an elderly lady curses, "Those dirty bastards." Most people would respond similarly.
Gong wants to show the mistakes porn filmmakers have made in the past. The story unfolds when a young man named Jin—gyu (played by Cho Jae-wan) dreams of becoming a movie director, but, due to financial difficulties, takes a job as an assistant director for a porn film called "All Nude Boy." He is insulted wherever he goes. Gong says the movie reflects reality. They are hard-pressed to find a filming location, even for a harmless scene involving two people meeting in a café. Nobody welcomes pornography.
When this reporter remarked, "I'm sorry to say that I wouldn't like it, either, if I was the café owner," Gong replied after a short pause, "I understand."
In the movie, Jin-gyu becomes angry when a friend wants to be introduced to a porn actress, saying, "They're just normal girls." But when a neighborhood young girl tells him she aspires to be one, he scolds, "You won't be able to marry if you do those kinds of things." The actress' salaries are a large chunk of the production cost, at about 700,000 to 1,000,000 won per day. When the market is booming, the production cost can go up to 20,000,000 won for a filming period of five days; it can also go as low as 5,000,000 won for one day of filming.
Because of the Internet, the pornographic film industry has collapsed; but until the early 2000s, some actresses made more than 10,000,000 won per month. Some women do come from "rough" backgrounds, as many believe, but others get into the business after failing in their acting careers. They maintain a level of professionalism, but keep their work secret from their families. Some even keep it a secret after marriage and, consequently, lead very uneasy lives.
The characters in the movie disparage their work, but scorn others for being "worse than us." They too are in a state of confusion.
In the past Gong always introduced himself as a "porn film director," and he once made a unique film dealing with anti-American sentiment, called "Stick the Flag." But even so, he still grew up dealing with constant insults.
"I used to criticize people who watch porn secretly yet openly condemn it as being two-faced and hypocritical, but now I don't. That's just human nature."
Beyond good or evil, it is a means of making a living for those in the industry. It may look as though anyone can make one, but Jin-gyu finds out in the movie that this is not the case when he argues with the director that sloppiness is not allowed. Because of production costs, the climatic scenes are always filmed all at once, but to the actors, who must moan and sweat for hours on end, it is extreme labor.
For the ten-or-so film staff standing around in a cramped motel room, without air conditioning or heating because of the noise, escape is the only thing on their minds. And the naked factor doesn't make it any easier.
yourcat@donga.com