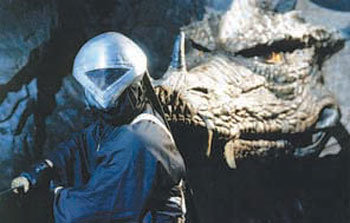 What is the DNA of the monster movie "D-War," which has sold over five million tickets in just 11 days after its release?
Cable channel Super Action will air "Yeonggu and Space Monster Bulgoeri," and "Dragon Tuka," director Shim Hyeong-rae's early sci-fi movies that gave birth to "D-War," one after the other at 8 a.m. on August 15.
Even before Shim directed "Yonggari (1999)," he had already explored the potential of Korean science fiction (SF) films by making films like "Yeonggu and Dragon Zzu-Zzu (1993)," "Tirano`s Claws (1994)," "Yeonggu and Space Monster Bulgoeri (1994)," and "Dragon Tuka (1996)."
Shim Hyeong-rae stars in "Yeonggu and Space Monster Bulgoeri" as Yeonggu who battles with Bulgoeri, which is sent to earth to conquer it. The appearance of Bulgoeri, which is about the same size as an adult, resembles "Yonggari," that was made for export with a production budget of 10 billion won ($10.7 million). Yoo Jae-seok and Seo Se-won, who were unknown at that time, appear in the film as people fighting against Bulgoeri along with Yeonggu.
"Dragon Tuka" portrays the heroic exploits of Yeonggu who lives in the 21st Century and goes back to the Joseon Dynasty to kill a dragon to which young women are sacrificed. A six-meter dragon model was made for the film. It appears to be the protocol of the evil Imugi's Burakwi army that fights against the soldiers of the Joseon Dynasty in "D-War."
Both films enjoyed a great deal of popularity among children when they hit theaters.
zozo@donga.com