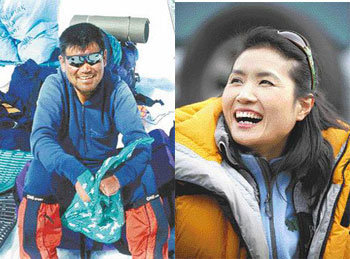 The 'man with no fingers', Kim Hong-Bin, successfully climbed to the top of Mt. Everest yesterday. According to the mountaineering club of the Korea Expressway Corporation, Kim reached the top of the mountain with Kim Mi-gon (36) and Yoon Joong-hyun (37) on the afternoon of May 16 (Korean time).
Kim Hong-bin (38) lost both of his hands to frostbite during a climb of the West Buttress of Mt. McKinley (6194m) in 1991. He succeeded in climbing Mt. Everest after attempting the feat three times previous since 1989. This is his third successful climb of the mountain peaks of Himalayas (above 8000 meters), following last year's success on Mt. Gasherbrum (8035m) and Mt. Shisha Pangma (8027m).
Goh Mi-yeong (40, Kolon Sports Challenge Team), the nation's top female sports-climber, also climbed to the top of Mt. Everest, taking the northeastern ridge.
This is the second time Goh has climbed one of the 8000-meter mountain peaks of the Himalayas. The first was Mt. Cho Oyu (8201m). It was also the second attempt to climb Mt. Everest as she once failed in her expedition to climb Mt. Everest. In May 2006, she had to turn back after reaching the 7500m mark because of frostbite in her foot.
jeon@donga.com