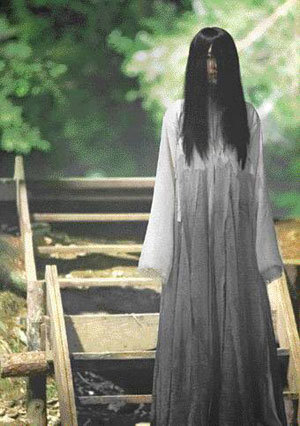 The title of the upcoming horror film, "The Hometown of Legends," alone, shows the audacity of the director, as the title is exactly the same as that of a representative Korean horror drama.
Although "The Hometown of Legends" is director Kim Ji-hwan's directorial debut, he is a renowned horror film expert among Korean filmmakers. Kim has displayed his genuine affection towards the so-called "cursed genre" while writing horror film columns in "FILM 2.0" magazine, based on his experience from watching several thousand horror movies.
Historic Korean horror movies – best represented by "A Public Cemetery of Wolha" – disappeared after the 1986 movie "Woman`s Wail." Ghost movies such as "Whispering Corridors" and "A Tale of Two Sisters," set in modern times, replaced them. Kim stated his aspiration of returning to the true roots of Korean horror movies.
So-yeon (Park Shin-hye, 17), who survives alone after falling into a body of water with her twin sister, Hyo-jin, at a village in the Joseon period, regains her memory ten years later. However, mysterious serial killings start to take place upon So-yeon's recovery.
So-yeon's mother (Yang Geum-seok) and soon to be husband, Hyun-sik (Jae-hee), are often baffled by So-yeon who sometimes shows the characteristics of her deceased sister after her memory loss. So-yeon also suffers an identity crisis.
The movie whose main motif is Kongjwi Patjwi, a Korean version of the Cinderella story, revolves around So-yeon's identity crisis and the mystery surrounding her identity keeps the audience engaged and guessing until the end of the movie.
Park Shin-hye brilliantly plays both wicked So-yeon and kind-hearted Hyo-jin, demonstrating her potential as a rising star of Korean cinema.
However, the director's lack of experience is evident in the movie. The characters are busy screaming throughout the movie even before the audience feels a chill. This is like repeatedly asking the audience, "That scene was scary, wasn't it?" Taking away from the excitement somewhat. Awkward scenes like a ghost in white mourning clothes hitting her head on a beam because she is too tall or a German shepherd, which obviously did not exist during the Joseon period, fiercely barking on So-yeon, make us wonder if it is a comedy.
"The Hometown of Legends," which has ended up being half a success, teaches us two lessons:
Reviewing movies and making movies are totally different matters. In fact, sticking to the grammar of a genre is more difficult than twisting it. The director must have fully realized this in making the movie. We look forward to his next film.
confetti@donga.com