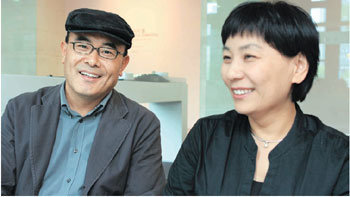 "My Wife Produced It" –
Good scenarios were few and far between for director Park Heung-sik after his latest movie, "Myungsoo," failed to attract audiences and received lukewarm reviews from the critics. He wrote a scenario himself, determined to "make a story he wants to tell." Film editor Park Gok-ji, his wife, reviewed it first and gave him the OK.
She said, "I have been lucky to be at the center for so long. I have spent my life in the movie business, but what is most important is my family. I participated in this movie not to make money, but to make my husband happy."
Director Park does not reveal how much the movie cost, afraid that it would be labeled a "low-budget movie." Thanks to his wife, however, A-level staff from Chungmu-ro joined them to make the movie. She said, "I made a threat, saying, 'My husband wants to work with the best team in Korea, but we don't have a lot of money. What can you do?'"
There were shots of a railway and subway car in the movie, whose main character was a railroad engineer. It was editor Park who gained permission from the Rapid Transit Corporation in just one week, when previously it had been taking forever. She was a "problem-solving broker" when someone made trouble. Director Park said, "She can persuade anyone."
"I Imagine How to Edit a Movie of My Family" –
The movie reflects director Park's experiences. Having studied German abroad, he made the main female character a German lecturer. He once saw a woman who looked suicidal in Taejongdae, Busan. The storyline follows a woman who reveals her inner scars while talking to a man in a similar situation.
The main characters meet at the "Gyeongui Line," which was disconnected but is soon to be reconnected. The man and woman meet and proceed to heal each other's wounds as the railroad is reconnected. To director Park, that is the meaning of life and marriage. The movie's portrayal of the two characters' realistic personal issues reflects his own experiences.
To Hanna (Sohn Tae-yeong) who says, "I feel worthless," her friend responds, "After getting married and having children, life has become clearer to me." Director Park laughed, saying, "My idea of life was more abstract when I was young, but now, looking at my children, I think, 'I have to make more money to educate them.'"
Editor Park added, "I imagined how to edit a movie of my family. The scenes of the male lead running will be intersected with those of my children cheering him. No matter how the movie is received, we are happy to be making movies."
The couple of ten-years smell "definite happiness."
yourcat@donga.com