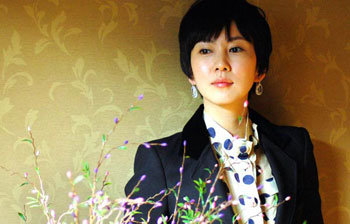 "I had a vague sense of confidence that I would act well, because I'm also a mom. Above all, I liked the intention of the film in catching the criminal. I felt that I'm participating for a good cause," said Kim Nam-ju, the main actress of the movie His Voice.
She wanted to show her side as a real mom, not just as an act. The original film shows how people were comforting her as she couldn't stop crying even after the cut sign. "The director said, 'stop, enough.' (laughs) I cried for an hour because I couldn't control my emotions. Because my face had swelled so much, on the next shoot the lights team said, 'We can control almost everything with appropriate lights, but this is impossible.'
In explaining her role during a recent production briefing session, she could not continue because her voice had strained. She must have felt the desperation more keenly after becoming a parent.
"My whole universe is Ra-hee (Kim's daughter). Nobody can recognize me if I go out with Ra-hee. Because I'm so focused on my baby, I look disheveled. But I've become relaxed. Previously, when my hair didn't come out the way I expected at a hair salon, I was angry, but now I laugh and say I'll grow it again. I feel like if I hurt others, my child will experience the same pain."
In the movie, the mother who lost her child wanders the raining streets wearing a red coat during summer, and beats her chest in grief to the point of bruising. Because of the criminal's order to wear red clothing, the character wears the coat as the first object she could lay her hands on, and collapses in the heat and rain.
People imagine Kim Nam-ju would be more like the perfect housewife in the movie before the kidnapping of her child, rather than this image.
"That image was created by advertisements. I was confident in taking on heart wrenching acts. People talked when I took this part. I know that they were saying, 'she doesn't do serious acting because she has a steady source of income (advertisements). I didn't intend it to be so, but after taking a break for one or two years, I started to wait for a better piece, a piece that I could do better. After marriage and a child, the term lengthened. I was disappointed on being labeled as not being true to my original profession, but I also thank people because of their interest in me."
We asked a difficult question on whether she was upset by rumors on her private life. She laughed and took out her cell phone, then showed a picture of her daughter who very much resembled Kim's couple. "I even heard rumors about my daughter. I hated that my child became famous without her wanting the attention, just because of her parents. It's the parent's responsibility to deal with the situation even when other people say that we're not displaying our child to the public. I want my child to live a normal life."
Though she is a star, she still feels that it is brutal that people gossip about her child. She said without emotion, "I feel stronger now."
"Before marriage I told my mom 'I'm never going to live like you', but I found myself raising my child just like my mom."
She was not the 'queen of advertisements' Kim Nam-ju that we previously knew, but Ra-hee's mom in real life, and Sang-woo's mom in the film.
yourcat@donga.com