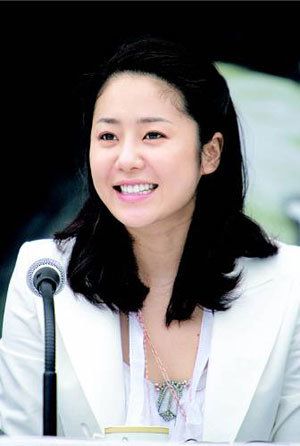 "Oh, it's scary to even think about it. I doubt that it's something that is likely to happen just because the director wants it."
On the afternoon of April 17, in the Aston House at the Sheraton Walker Hill Hotel in Seoul, this was the response of Ko Hyun-jung (35, photo), who participated in the production presentation for director Hong Sang-su's seventh movie, "Beach Beauties," to the question, "If director Hong demands exposing yourself, what would you do?" relinquishing herself to her fate as she flipped her hair with her fingers behind each ear.
Even so she added as an afterthought, "If the fans want it, the director will demand something unconventional.... More than anything, I want to be devoted to the actor's role." Kim Seung-woo, who was standing beside her, said half-jokingly, "As far as I know, there are no bed scenes in this film. Since it's not on a bed," fanning the flames of speculation about bed scenes.
They will start shooting in the middle of this month, and "Beach Beauties," expected to be released this fall, is Ko's first movie in 16 years since her debut. Last year, through the SBS Drama "Spring Days," Ko made a comeback to television after 10 years, and this movie that she selected is a story of four men and women on a trip to the beach. Ko Hyun-jung, Kim Seung-woo, Song Sun-mi, and Kim Tae-woo are the main characters. Ko plays the role of "Moon-sook," a songwriter, who likes to daydream and falls for a guy easily even if he's not her type. Moon-sook's revolutionary character is diametrically opposed to the discreet women she has played until now.
"I'm nervous because it's my first movie. Until now, I was sheltered and now I feel like an adult appearing before others for the first time. It's that complicated feeling like finishing with picture diaries and moving on to the diaries with just lines."
When asked if she feels that other female actresses of her age like Choi Jin-sil and Ko So-young are her rivals, as they are also acting in movies these days, Ko said smilingly, "I should ask them to give me a lecture on acting. They are not my rivals because I know nothing much about movies."
Director Hong remarked about Ko, "She is an actress with very deep emotions, just like a big bundle of optical fibers."
Seung-Jae Lee sjda@donga.com