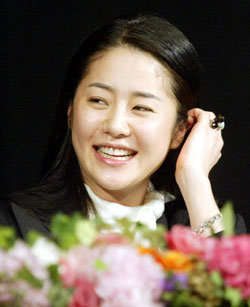 On the afternoon of November 9, a flock of 300 reporters crowded the Grand Hyatt Seoul Hotel ballroom where a production presentation and press conference of a new SBS television drama "Spring Day" was taking place. It was because A-list celebrity Goh Hyun-jung was making her first public appearance in 10 years at the age of 33 as the leading actress of the new drama.
Wearing a white dress with a black jacket and letting her long straight hair flow loose, Goh Hyun-jung flashed sunny smiles throughout the interview, chuckling as she said leisurely, "Seeing all these reporters makes me feel like I've been secretly dating a boyfriend and finally got the families' permission to meet," before answering questions. Below are the questions and answers exchanged during the interview.
―Is there a particular reason you chose Spring Day over many other casting offers?
"I decided to star in this because I felt I wanted a second spring day in my life as well. The first spring day, flowers bloomed for me, but I still felt the chilling winds. I dressed up in pretty clothes according to the season, but I still got the flu because of the cold. These past 10 years were like that. I lived a confusing life. The year after my divorce, I only thought of myself."
―Do you feel pressure in facing a comeback after 10 years?
"It would have been so nice if everything was happy during all those times. I do worry that viewers who remember me in the drama, The Hourglass, will be disappointed. But since my performance wasn't perfect before, I think it will be okay."
―When did you decide to make your public appearance and why did you chose to star in a drama, and not a movie?
"I really hesitated, but I've never done a movie before, so I chose to do a drama. I think the wish to perform was already in me even before I knew it. I think it's better to just go with the flow."
Former Miss Korea runner-up Goh disappeared from the entertainment business after her marriage in May of 1995, and she divorced her husband in November of 2003. Regarding questions about her children, Goh answered, "I have a mother's heart, and I can't just erase those children. But I think it would be better to talk about that in a private meeting." An emotional pause ensued as Goh's face contorted with the effort to swallow her tears.
"At times when I was frustrated I really wanted to get out and talk to reporters. But I don't fret anymore. If I keep wallowing in my worries, it will never end. Nowadays, I try to focus on keeping a positive attitude towards my work."
Spring Day is scheduled to air on January 8, 2005. Goh Hyun-jung plays a woman in her late twenties, caught in a love triangle between Cho In-sung and Ji Jin-hee.
Goh's salary is raising eyebrows. Speaking on her lofty compensation per episode, production company SidusHG representative Jang Jin-ook said, "It's not the rumored two million won, but what's for sure is that we are not sparing anything."
Replying to compliments on her youthful beauty, Goh thanked the reporters and said, "During my marriage I couldn't keep in shape, but I guess it's because I didn't eat any fast food and because I like Korean food - kimchi and kimchi soup are my favorite."
Sun-Woo Kim sublime@donga.com