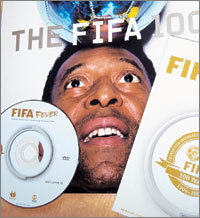 FIFA published a DVD that critically undermined the myth of the Korean soccer team`s advancement into the semifinals. FIFA selected the top 10 wrong referee decisions in the 100-year history of the World Cup in its recently released DVD publication, "FIFA Fever," (Picture, 2 DVDs). However, four out of 10 cases are related to the 2002 FIFA World Cup held in Korea and Japan.
The DVD title published as a limited edition by FIFA along with a pictorial book, "The FIFA 100," in celebration of its 100th birthday will be permanently kept by FIFA. The DVD title will also be exhibited and screened from this month until May next year at the Olympic Park in Rosen, Switzerland.
According to the DVD publication, the top six to nine listings are all linked to matches involving the Korean team. The sixth is an offsides call on an overtime goal by Damiano Tommasi in a Korea versus Italy match. Also, it occurred at the same match where Francesco Totti`s was ejected after receiving a second yellow card for a simulation action when he went down after being hit by a defensive man in the box while driving. The eighth is a defensive foul call when Fernando Morientes made a goal with a header. The ninth is disallowing Morientes header, which he successfully capitalized on Joaquin Sanchez`s cross pass, on a questionable call that ruled the ball had crossed the end line. That also occurred at the same match.
Responses of foreign media dramatically differed on the four cases. For instance, BBC and ESPN broadcast the decisions as fair while The Washington Post and Russian Internet paper Gazeta claimed they were obviously wrong calls.
The problem is, however, that FIFA used such media releases as its official records. Moreover, as Korea was involved in four of the incidents that occurred in the matches with Italy and Spain, which were critical for the Korean team in advancing to the semifinals, it is sufficient for people to have an impression that an organizational conspiracy was behind the matches. On this regard, former FIFA president Joseph Blatter said that such conspiracy theories that claim referees helped Korea are even worthless to cast a look.
Sung-Kyu Kim kimsk@donga.com