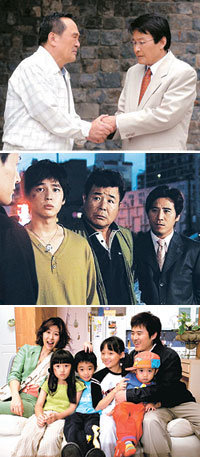 Once again, it is family and nothing else that gives energy for us to go on in our dry and harsh everyday lives, burdened by the economic depression and ideological conflicts. Five dramas prepared as special programs for this year's Harvest Festival holidays by major TV channels are all about family.
The plotlines of the dramas include: Brothers reunited after 40 years' separation; a husband who is facing his wife's death (KBS); three sons and their father (MBC); a second marriage family; and a story of a husband with an incurable disease and his disabled wife (SBS).
KBS2 Presents: "My Elder Brother" (written by Ji Sang-hak and produced by Han Jeong-hi. Starts at 10:30 a.m. on September 27)—
Sang-tae (played by Park In-hwan) makes a living delivering ice in a seafood market. One day, he watches a TV program by chance where his younger brother and chemistry professor in a first-class university, Hyun-tae (played by Seo In-seok) is looking for him. The brothers meet after 40 years.
The two brothers were living in an orphanage, but got separated while Sang-tae, then 12 years old, was stealing clothing for Hyun-tae. They exchange the heart-warming love of reunited brothers. However, they soon start to suffer as their families experience trouble getting along with each other due to their gap in social status. When it was found out by chance that there is land under Sang-tae's name, their conflicts intensify even more surrounding the asset.
MBC Presents: "Father's Sea" (written by No Yu-gyong and produced by Lee Hyung-seon; Starts at 9:30 a.m. on September 28)—
This is a story of a family of three sons and a father. The eldest son is the one the father admires the most. He is an instructor in a university. The second son always confronts the father in every issue. The youngest goes out with neighborhood gangsters to cause troubles. The three sons realize the father's unconditional love at the end.
Tae-jong (played by Baek Il-seop) has raised three sons by himself after he lost his wife 20 years ago. He makes a living by fixing boats. The eldest son, Jae-hoon (played by Kim Sei-joon), returns to his hometown after divorcing his wife six months ago.
An officer in charge of crimes of violence, the second son, Jae-chul (played by Chung Chan), returns home to investigate the case when the youngest, Jae-dong (played by Lee Joon), gets jailed for riding a moped while drunk. Jae-chul confronts his father, who only cherishes the eldest, but later he discovers a secret about his eldest brother's birth.
SBS Presents: "Four Enemies" (written by Lim Sun-hi and produced by Shin Yoon-seop; Starts at 10:40 a.m. on September 27)—
This drama describes in a cheerful manner how second marriage family members become real family members by adopting the children's view.
Yeong-joo (played by Kim Ji-yeong) and Jong-chul (played by Lim Ho), high school classmates, meet when Yeong-joo's daughter Byeol transfers to a school where Jong-chul's son Woo-jin is attending. They find out both are divorced and become close again, remembering the old memories they shared together. Yet, there are troubles made by their kids who don't accept their new mom and dad. Woo-jin runs away with his younger brother Woo-ram to go to their mother.
Other Dramas—
KBS2's "A Gift From Her First Love" (written by Seo Hi-yeong and produced by Seon Woo-wan; scheduled for 9:30 a.m. on September 26) is a story of a husband who goes to look for his dying wife's first love, who she has missed.
SBS's "Gwangshik's Song" (written by Park Kyong-a and produced by Chung Hyo) is a story of a husband who is forcing a separation from his disabled wife because he is dying of last-stage cancer. The wife misunderstands her husband's change of attitude.
Jung-Bo Suh suhchoi@donga.com