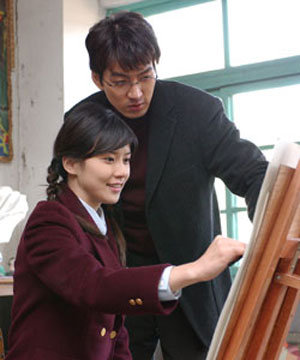 It is a drama that lies somewhere between Jeonwon Ilgi (Garden Diaries) and Han Jiboong Sae Gajog (One Roof and Three Families).
This is main concept of Mulgot Maeul Saramdul (Mulgot Villagers), MBC's 50-part Sunday morning drama (script by Lee Hae-sook, produced by Park Bok-man, 09:50) to begin January 4, 2004, producers explain. Their aim is to combine the coziness and peacefulness of Garden Diaries with the merry spirit of One Roof and Three Families.
Park Bok-man, producer of the drama, was also one of the makers of Garden Diaries in 1992. He said of the new drama that the aim is to "portray the trivial inner thoughts through the lives of everyday people."
The setting is a garden village just outside of Seoul where farmers and city commuters alike live together. Yu Jun-tae (played by Jun Mu-song) is the warm-hearted head of the village health center. His role as the moral supporter much resembles Garden Diaries' President Kim. His mother (played by Kim Eun-young) bears the nickname Angel Grandma. Song Il-guk, who played the leading role in KBS Life Portrayals and MBC Fountain of the Desert, appears in Mulgot Villagers as the kind art teacher Kang Song-woo who comes to Molgot village after losing his wife in a car accident. His new wife is played by Lee Bo-young, a fresh face to the screen, who in the drama is a kind, typical music teacher. Lee was a child actress in SBS's Get a Job!.
Being the sort of drama where not much action intervenes, there is the risk of it becoming too boring for viewers, which is why, producers tell us, the drama will be shown in a sequence of short stories that lead to a bigger overall plot.
The main family whose story the drama talks of is Yu's family, but each family will receive its own spotlight.
Another factor that makes this drama worth looking out for is that it casts Kang Nam-gil, a famous Korean actor who hadn't appeared on the screen for four years. Kang makes his first appearance in the February edition as Han Sae-young, a small shop owner who just cannot conform to competitive urban life, a similar character to his former roles on TV.
kathycho@donga.com