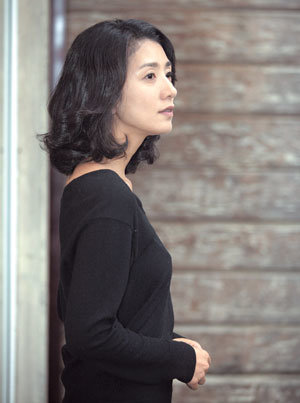 Kim Hee-ae is appraised for her "possessed performance" in a soap opera written by distinguished writer Kim Soo-hyun. She resolutely took a break from her role as a mother and wife in reality to play the role for the cameras six days a week. She says that she absorbs herself in studying her script like a student preparing for an exam every night after she has sent her children to bed. During the weekends, she monitors the program alone, sending her husband and children out of the room, maybe to concentrate on the subtle emotions she expresses.
"I'm worried that in trying to do my best, I will unintentionally overdo the acting," admitted Kim Hee-ae.
Young-ae, the role played by Kim, is a perfect housewife who has put all her efforts into her home for 10 years. She watches over her family even though her father-in-law, who was against the marriage, says, "You've done ten years, now resign from your post." The in-laws only repent their sins and beg their forgiveness after hearing of Young-ae's incurable disease. In real life, Kim has also concentrated on her life as a housewife since her marriage in 1996. What could be the reason why she came back to act after seven years?
"I am sometimes frightened of myself for getting engrossed in one thing. Before my marriage, I was engrossed in my work. After marriage, I devoted myself in raising my children. However, it occurred to me that devoting myself to only one thing might later 'hurt' me. They say that if you don't do things you want to do and refrain from saying things you want to say, 90 percent of the time, you get cancer."
Facing her death, Young-ae first feels jealous of Jee-na (played by Lee Seung-youn), an old friend of her husband, but later she tries to leave her husband and children in her care. Kim says, "If I was told that I only had a limited time left, I would probably faint and become an invalid in a mental hospital. I cannot be as calm as Young-ae in facing death, and I am not generous enough to approve of another women taking care of my husband."
Regarding the topic of divorce, much referred to in the program, Kim says, "Before I got married, I thought couples got divorced at the smallest sign of trouble. However, after marriage, I realized that even though getting married is hard, getting divorced is even harder. Severing ties is no easy feat."
Kim continued to ask, "By the way, why is Ko Hyun-jung getting a divorce? Do you know any details?" curious of gossip like any other ordinary housewife.
Seung-Hoon Cheon raphy@donga.com