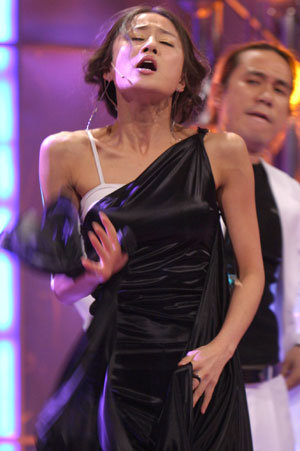 The infelicity of harmony with the sexy body and dancing, the moistened eyes, and the voice that cannot stand hearing?
The heroine is Kim Mi-yeon, 23, who is taking charge of one corner-"LIVE QUEEN"- of the MBC's "Comedy House" (7 p.m. every Saturday). She presents both dancing skills, which is no less splendid than a typical singer, and singing skills, which is not superior to any other tone-deaf singers at the same time.
Kim Mi-yeon sang the dancing songs of Boa's "Number One" and Lee Hyo-ri's "10 Minutes" these days, and nowadays she is expanding her song lists to the ballad songs, such as "Goodbye" of Park Hye-kyoung and "Break Away" of Big Mama.
At the opening part of the song, Kim Mi-yeon overwhelms the audiences with lip-synching and dancing, but abruptly, at the middle of the song, she sings live and changes suddenly to a "bizarre singer."
Kim Mi-yeon is 163 centimeters in height, 45 kilograms in weight, and a 22-inch waist, with biceps and abdominal muscles that does not match her slim body. I met Kim Mi-yeon, who dances perfectly and sings terribly in sexy garments, in the evening on October 29 at the MBC studio, where "Comedy House" is recorded, in Youido, Seoul.
-What made you start this corner?
"During my nursery song at karaoke, somebody asked me "whether or not I sing seriously." I decided to start hearing, "It will be difficult to sing that ugly on purpose."
-Aren't you just pretending that you don't sing well?
"I am just faithful to momentary feeling. I leave my body to the rhythm."
-Is it your original voice?
"I was severely scolded quite often by my mother because of my whimpering since I was a child. In addition to it, I have a husky and low voice and Chungcheong dialect (her hometown is Chonan, in Chungnam). I almost never drink alcoholic beverage and never smoke. But my voice sounds like salting in the wine and tobacco. I am quite depressed about it. I had a throat endoscopy but nothing was wrong."
-Why do you think that people are laughing?
"Because of my frankness."
Kim Mi-yeon started rhythmic sportive gymnastics in her fifth year of elementary school, and now she is absent from the department of Dance of the Seoul Institute of the Arts. She joined the MBC dance company first place in 2000, and was selected at the MBC comedian adoption in 2002. Her comedy targets on "clumsiness and strangeness," which causes an image clash because of her appearance and voice. It can be interpreted that she parodies some women singers who dance well and look pretty but sings terribly.
-Why did you give up the Dance Company and chose to be a comedian?
"I love to see people laughing at me. The time is gone when only the ugly can be comedians."
-Any difficulties?
"Idol singers practiced one song for one year. But I have to perform each song and dancing perfectly every weeks. I practice till 4 a.m. every day. I complete the costume by myself."
-Your most charming attraction?
"That I am looked at as 'a girl without a brain.'"
-And plans for the future?
"I will challenge myself with the songs of rockers or of the men's songs, such as 'Rain.' And I want to release my phonograph record."
Seung-Jae Lee sjda@donga.com