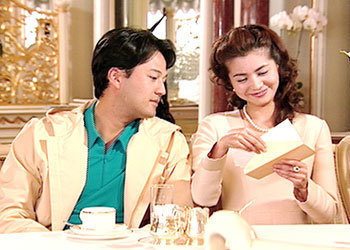 `Keeping high viewer rating at the expense of viewers` trust?` `Im Sung-han must stop writing this far-fetched story. It is an insult to viewers.`
The Web site set for MBC TV series `the Mermaid (www.imbc.com),` aired 8:20 p.m. every weeknight, was overloaded with messages calling for the end of the drama for 12 hours from midnight on May 24. It was a massive cyber attack organized by the Anti Im Sung-han Café (cafe.daum.net/18dlsdj), an Internet community club consisting of vehement critics of the writer.
It is not known how many messages were posted during the attack, but according to the anti café, MBC had to delete thousands of messages. Yet, the broadcasting company said, "We only deleted those messages containing name callings and slanting remarks based on the message-posting principles."
The Anti Im café is the first ever anti café targeting a TV series writer. It was opened in September last year and the number of members has surged after the cyber attack on May 24. There were some 8,000 before the attack, but the figure reached 11,209 as of 2:00 p.m. on May 24.
The group criticizes the extension of the story and points out that writer Im must also be held accountable for the far-fetched story. They cite that the story now hardly makes sense due to the extension aimed for high viewer rating. "Im has also had hard times, writing the story for more than a year," the production team explained.
The storyline, for sure, made a turnabout and has made little sense since then. `It was initially a story about a young woman named Ariyoung plotting revenge against her father who deserted his family. Then her mother died out of sudden and now it is a light-touch drama filled with some silly episodes. It is more like a sitcom,` critics pointed out.
Some episodes gave wrong information to viewers at certain times. Ariyoung`s mother gave birth to a boy with autism because of the shock from her divorce. Autism is a hereditary disease but the drama indicated in its story that parents are responsible for autism of their children.
The notorious strawberry episode, in which washing each strawberry with a toothbrush is described as normal, became a subject of mockery over the Web site.
"Dramas tend to exaggerate the reality," said Lee Ju-hwan, producer of the series. "The cyber attack reflects some negative opinions. Yet, we believe many will miss the drama when it ends."
According to a survey conducted by viewer rating research firm Neilson Media, `The Mermaid` recorded 35.2% of rating last week, topping the ranking ahead of KBS2 `The Gag Concert.` The series is set to end on June 27.
kathycho@donga.com