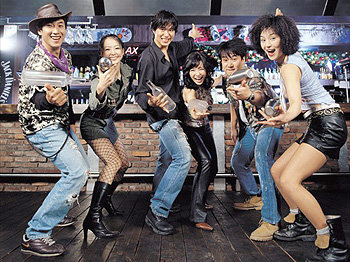 Hit Korean movies such as `Friends,` `the Champion,` `A Pirate Becomes a Disco King,` `Mr. No Good Manner,` `Adolescent Wet Dreams` and `the Classic` went back to the good old times to appeal to the audience.
`Show, Show, Show,` set to be released on February 28, is also riding on the old fashion boom, but it remains uncertain whether the movie will make another old-time hit.
At a shantytown in outskirts of Seoul in 1997, San-hae (Yu Jun-sang), helping his mother with her small pub, idles away with his gang including Sang-cheol (Lee Sun-kyun), the son of the coal storeowner, and college student Dong-ryong (Ahn Jae-hwan). Then the gang wins an empty shop in a poker game and openes a cocktail bar.
They learn how to play with bottles from Yun-hee (Park Sun-young), who leads the band at school. Bad guys in the neighborhood give them hard times, but for San-hae and his gang the bar is the only exit from the dire and hopeless situation they are in.
The production team took a lot of effort to recreate the 1970s scenes throughout the movie - from `disco clubs` filled with youngsters dancing to the beat of Donna Summer`s `Hot Stuff,` to the street where people stop to pay respect to the national flag and to young couples hiding from the police patrol after the curfew.
The movie, however, seems to enforce laughs with exaggerated acts, and then turns into a sad love story in the latter part. The love story between San-hae and Yun-hee, who face vehement opposition by Yun-hee`s father (Kim Yong-gun), also appears far-fetched.
Yu Jun-sang, who played a hilarious young man in TV series `A Fox and Cotton Candy,` make little impression with character San-hae. Director Kim Jeong-ho, assistant director for `The Great Work,` makes his director debut. Aged for 15 or over.
Soo-Kyung Kim skkim@donga.com