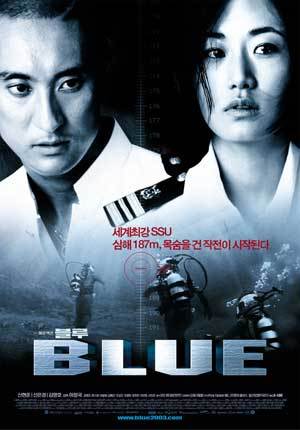 In Korea, they do not make an action film set in deep blue sea often. It is a rare genre. Movie `Blue,` fully supported by the Navy for production, deserves credit in that it expanded the horizon of Korean movies.
Kim Joon (Shin Hyun-joon), an elite member of Naval Special Commando Force SSU, has been known his dear friend Lieutenant Lee Tae-hyun (Kim Young-ho) since they were very young. Kim Joon falls in love with another SSU member Gang Soo-jin (Shin Eun-kyung), but let her go after finding out that his friend Lee also likes her.
After studying in London for years, Gang returns and she is now a lieutenant commander in the SSU unit. Then the three find themselves caught in awkward and uneasy feelings. Meanwhile, an accident takes place during a naval training and a submarine sank deep down under the water. SSU members are now sent to the bottom of the sea to rescue survivors and high-tech detection equipment.
While the earlier naval blockbuster movie `Ghost` (1999) was mostly set in the inside of a submarine, `Blue` delivers the audience images of deep blue water and sophisticated computer graphic works.
The last part of the movie, where the rescue operation is entangled with desire to survive, friendship and love, successfully realizes a naval action blockbuster movie. Until the peak moment, however, the movie is more like a sea sitcom for too long time. There are too many short episodes until the mid part of the movie.
It is indeed filled with appealing characters and elements of dramatic conflict. Kim Joon and Lee Tae-hyun are in stark contrast with each other in characters. Tae-hyun, like Saliere jealous of Mozart, watches his great friend Joon in pain. They love one woman and are forced to make a lifetime decision at a critical juncture between life and death.
The scenario appears to be a result of long and hard working, but the relationship in the movie is too typical. There is no feeling of desperation when Lee says to Kim, "I wanted to beat you." The love triangle looks rather unconvincing. The audience can read the message from the story and the lines, but can`t feel it from the way the characters interact.
This movie might be called a movie for Shin Hyun-joon. The actor leads the movie through the end playing a comic role at some times and a tragic role at others. The movie is directed by Lee Jung-gook, who is known for hit movie `The Letter.` For aged 15 and over. Released on February 7.
Hee-Kyung Kim susanna@donga.com