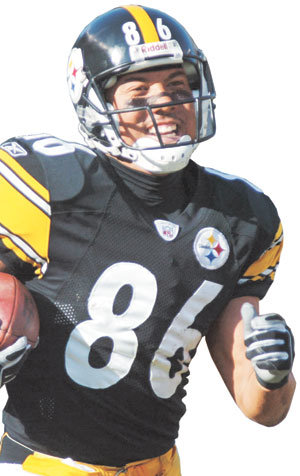 Pittsburgh Steelers, led by Ward, is leading the North division of the American Football Conference (AFC). It has recorded 7 wins so far. Under these circumstances, his team is sure to advance into the post-season. Ward was one of those players, ranked at just 92nd among the 300 candidates in the pro drafting. But in September, his team begged him to renew a 4-year contract, indicating how his team cherishes Ward.
What distinguish him are his humbleness, persistent efforts and readiness to sacrifice himself. And that is why fans love him.
Ward stands at 185, weighing 88kg. On appearance, he is an Africa-America. Part of him, however, contains the Korean heritage. When his father, Ward Jr., stationed as a US solder in Korea, he married a Korean woman, Kim Young-hee. Then, Ward with his parents flew over to the United States. Soon, his father left them, leaving him and his mother alone.
"I own who and what I am to my Mother. My Mom has always taught me to keep a low profile. She also said that, to obtain what I want, I have to pitch in all I have. The lessons have sustained me to this point."
In every interview, Ward talks about his mother. Some guys still call me a mother`s boy. But what his mother says is a law to him.
Even from high school days, he was known for his zeal for training. When he was in college, his wrist was broken. Nonetheless, he participated in training in order not to be left behind. Due to these efforts, he experienced almost every position during college including quarterback and running back. What Ward also cherishes is the videotape analysis. He says, "I can`t find anything better than this to read the games and to find out weak points of others." Thus, he spends 3-4 hours a day on that analysis.
The first aim of Ward is to make his mother happy, a mother who has made who and what he is today. Right after starting his career as a pro football player, he gave her a gift of a luxury car. Lately, he gave her a gorgeous mansion in Georgia. He knows his mother wants him to get married, but does not seem to do so now.
Anyway, Ward is also a proud Korean.
Jong-Koo Yang yjongk@donga.com