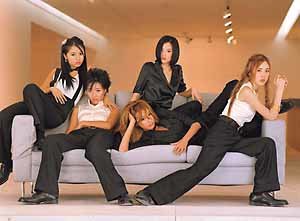 The female quintet, `Babybox`, are to attack the markets of four countries including Korea, China, Taiwan, and Japan with their new album (5th). After releasing the new album early this month in Korea, they plan to release another batch during the middle ten days of this month in China and other countries, which is about ten days late.
The country that has the best chance for a `hit` record besides Korea is China. The Babybox, that advanced into China from 1999, is one of the starring roles of the `Korean Stream` (The Korean pop music fever in China). They were the most popular group at the `Korea-China Super Concert` which was held in Beijing in last April.
`Game Over`, the new title song that the group introduced at the `Music Bank`, the song-chart program of KBS 2, is a dance music in which the members¡¯ sexy vocal harmony is distinguished. They expressed a heart of a woman in which she suffers from the pain of separation. The word `game` in the title of `Game Over` means love.
Kim I-Jee (21), who wrote the words of this song with Yang Jae-Sun, a songwriter, explained, ``this song is satirizing the current generation¡¯s idea on love in which they consider love as a game.``
One noticeable change in the new album is that the members participated in the procedures of the songwriting, fashion coordination, and choreography. Kan Mee-Yeon (19), Kim I-Jee, Lee Hee-Jin (21), and Shim Eun-Jin (20) separately wrote the words and music of the `Last Present`, `Boodee`, `The One`, and `Prologue`. Yoon Eun-Hye (17) also wrote the words of `To Angel`.
`Game Over` is showing a green light due to the response by domestic long-time fans. Fans are singing the Babybox¡¯s theme song that they made by altering the refrain part of the `Game Over` at the song-chart programs¡¯ tele-recording scenes.
The agency is cherishing a great expectation from China, because Chinese fans tend to be fascinated by a song¡¯s musical structure, singers¡¯ appearance, or their refined style, rather than the meaning of the words. 150,000 copies of their forth album, `Why`, sold in China. It can be counted as a million seller considering the situation in China in which the illegal versions occupy a large segment of the album circulation.
The Babybox plans to visit China for a concert tour in seven cities including Shanghai and proceed to Japan and Taiwan.
It will be the first time to have a concert in Taiwan. The agency is analyzing that the success or failure in Taiwan will be decided based on the result from China. It is their third concert in Japan and they have not seen a positive result. Yet, the experts in Japan evaluate that the Babybox has a great potential for success in Japan.
Heo Yeub heo@donga.com