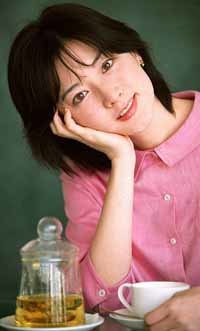 In the wake of her high-profile role in the blockbuster ``Joint Security Area (JSA),`` actress Lee Young-Ae, 30, is busier than ever. `The Gift,` her follow-up to JSA, is due in theaters on Mar. 24, she just started shooting her next project ``Spring Days Are Passing`` and about eight TV commercials she made are now on the air.
Lee waited a long time for this kind of success after her debut film, `Inshalla,` failed at the box office. She finally achieved her aim with `JSA` and had even planned to skip the Berlin Film Festival, where the film was screened, in order to prepare for her upcoming roles. She ended up attending but has been on the go ever since.
In `The Gift,` she sheds the glamorous trappings of a movie star to play a young woman facing the realities of an early death. Responding to critical acclaim for her performance, she said in an interview, ``It doesn`t make sense to single out an individual actor for high praise. Actors are little more than instruments of the director. If the movie is a mess despite a brilliant performance by an actor, the actor dies in a sense. If the movie is good and even though the actor`s part wasn`t all that great, the actor lives.``
As for how she prepares for a part, Lee adopts unorthodox methods. Lately she has been reading a Japanese novel called `Between Calm and Passion.`
``I like to read books rather than watching movies while preparing for a new movie because I worry I might inadvertently imitate other actors,`` she said.
Kim Hee-Kyeong susanna@donga.com