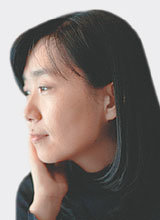 Three novels of Korean novelist Han Kang have been republished, with her trace on the literature track marked on them – "The Love of Yeosu" of 1995, "Fruits of My Woman" of 1998, and "A Yellow Patterned Eternity" of 2005. In particular, a nouvelle titled "Fruits of My Woman" in the book with the same name is known to contribute to the birth of "The Vegetarian" that brought the Man Booker International Prize to the Korean novelist. She interviewed that there is discordance between her and novels. She confessed that reading her works of the past makes her feel as if they reminded her of the fact that she is a person who writes novels.
"The novels made me realize that I had struggled to inch ahead just as a snail when in my 20s," she said. "I perused them carefully several times, while editing them in terms of configuration, and made tweaks to some scenes."
Han Kang said that a full-length novel requires a writer to dig into who we are with an utmost determination. Compared to that, a shorter story tends to be "rather personal."
"Short stories are not the ones written under the perfect plan. They are records of me as a human being, who has crawled in the dark and marched confidently," Han said. "This does not mean that I verbally wrote down what exactly happened throughout my lifetime."
This winter, she plans to complete a third novel for her collection, which will be put together with "The Elegy of Whiteness" of 2015 and "Farewell" of 2018. The writer did not agree with the review that her works are dark-colored and serious.
"I haven't thought that my novels deal with the dark. Rather, I assume that they lean toward the bright, whether obvious or dim," the novelist said. "My goal is to pen a book on warm-hearted people, whose heart beats all the time."
Yeun-Kyung Cho yunique@donga.com