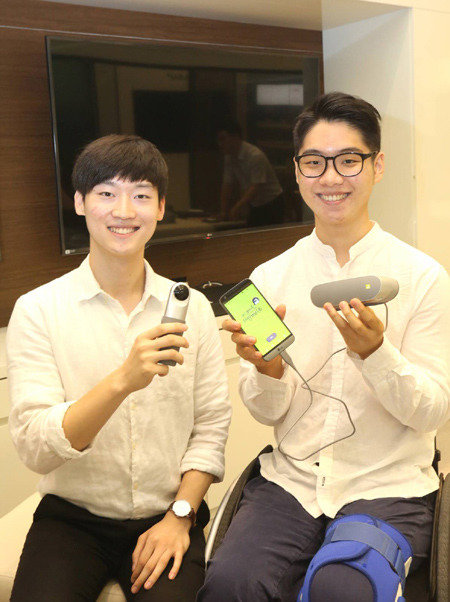 The sharp edge of a boat and hands grasping oars were seen on the screen. The sound of a player's gasp of breath was heard as the boat cleaving through the water reached the finish line. It was a video clip of Park Jun-ha, a Korean rowing player, who was in the midst of training held in Hwacheon, Gangwon Province, before the 2016 Rio Paralympics.
The video footage on a Paralympic athlete filmed by a 360-degree virtual reality (VR) camera received the best award at the 2016 Korea 360 VR Creator Challenge competition hosted by LG Uplus. This reporter met the winning team – Kim Geon-ho, a Harvard student majoring in politics, and Kim Gwang-joon, a prestigious Seoul National University student majoring communication -- at the head office of LG Uplus in Yongsan, Seoul, on Thursday.
Kim Geon-ho, who first had the idea, was a part of the Seoul Para Rowing team before getting into Harvard. He got paralyzed from the waist down due to a ski accident when he was an exchange high school student. Though he could no longer play soccer or run in a marathon, he managed to contact the rowing team and learned rowing for a few months. "I thought that I want to show disabled athletes who receive less attention to the world someday," Kim said.
After becoming a university student, he travelled 20 U.S. states for 50 days with friends. In his first long travel on wheels, he had to search for a slope and a rest room for the disabled. After travelling, he wrote a book for wheel-chaired travelers, "20 States on Wheels." Since then, he started to focus on content.
He got to know Kim Gwang-joon this year when he took a semester off and created a video "Seoul, Take the Wheel" in Korea with him. He tried to find someone who can help him film a video clip because he wanted to film travelling every corner of Seoul in a wheel chair. Finally, someone introduced him the Seoul National University student who was a member of a filming club on campus. With various VR filming experiences such as sports and club parties, Kim readily accepted the proposal on making content on the disabled.
The video clip, created by the two students and uploaded to their own website (www.wearemuui.com) and YouTube in early August, shows Seoul seen from the perspective of someone in a wheel chair. Kim Geon-ho and his friends visit the Gyeongbok Palace, the Gwangjang Market and Myeongdong, enjoying the scenery and food.
At the end of the video footage, it shows how to find a restroom for the disabled, an elevator and a place where a wheel-chaired person can eat in those places. "There is a wheelchair-accessible restroom near the building of bedding in the Gwangjang Market." This is a line of the Gwangjang Market episode.
곽도영기자 now@donga.com