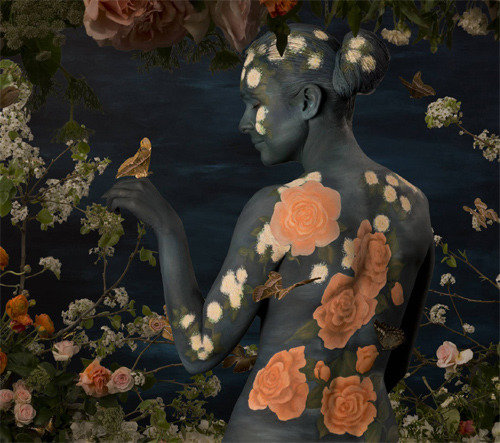 "Somebody That I Used To Know" by Gotye (36), Australian singer and songwriter who hails from Belgium and the winner of the "Record of the Year" in the 55th Grammy Award in 2013, is playing at the entrance to the exhibition. The song ranked atop on the Billboard single chart for eight weeks from April to June in 2012.
Emma Hack's "Body Flower" on display at Sabina Gallery in Seoul's Jongno district through October 30 is the first private exhibition in Korea by an Australian artist.
Hack took charge of body painting in a music video, in which images overlapping with the background drawing as if camouflages colors are painted on the naked body of Gotye who is leaning on the wall, are gradually spreading. Production of a four-minute and four-second music video that adopts motion stop technology required 23 hours of body painting work.
The 44-year-old award winning body artist had been doing body painting work since she was 18, and has been presenting paintings since 2005, in which she drew the human body superimposed, as if the body is hiding on the background images that adopt nature such as flowers, trees and birds as the theme. In her exhibition in Seoul, she showcases 49 artworks that use natural patterns created by Australia's iconic designer Florence Broadhurst.
In the underground exhibition hall, flash animations of pattern images provided by Hack are projected on screen using a beam projector. Visitors can experience simple body painting by standing in front of the wall, while wearing white gown provided by the gallery.
손택균기자 sohn@donga.com