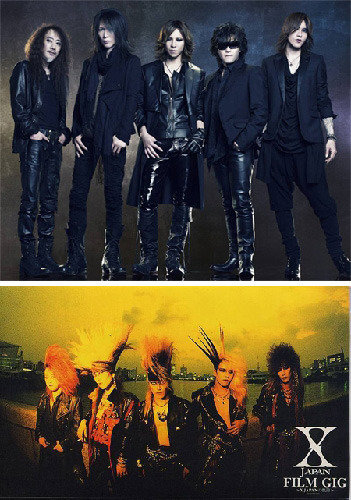 The Japanese rock group X Japan shook its country in the 1980s and 90s with its mysterious make-up that seemed to combine the Kabuki and horror animation, stage manner and strong music style. Back then, even prior to the opening of Japan's pop culture, more than 1 million pirated albums of the band were said to have sold in Korea.
X Japan performed in Tokyo Dome, which can accommodate some 50,000 people, recording consecutive sellouts and making its name to the Oricon Chart multiple times. In 1997, the band disbanded with its 5th album titled "Dahlkia" (1996) due to internal conflict. The following year, its guitarist hide was found dead by strangulation at his place. Series of teenagers committed suicide and some 50,000 fans attended the funeral procession, all of which created contentious social issue. Yet another sudden death of former bassist Taiji followed in 2011.
The band's leader Yoshiki released a classical album and, at the request of Japanese government, composed and played a commemorative music in 1999 to celebrate the 10th anniversary of Emperor Akihito. In 2012, he created theme music for the 69th Golden Globe Awards. X Japan reunited in 2007 and performed at Madison Square Garden in New York City in 2014.
The documentary movie "We are X," which tells the band's checkered history and Yoshiki, had its premiere at the 2016 Sundance Film Festival in January, winning Special Jury Award (Best Editing) in documentary. In the movie, Gene Simmons from Kiss, Marilyn Manson, Stan Lee, a godfather in Marvel Heroes testifies for X Japan.
오스틴=임희윤기자 imi@donga.com